At EMC-Test NRW GmbH (Dortmund, 23/11/2004) and EMCC Dr. Rasek (Ebermannstadt, 16/02/2005) – both accredited EMI testing labs – the shielding effectivity of Cuprotect®Spezial was tested under practice conditions including the comparison of the effects of different connection techniques for the individual Cuprotect® sheets.
A double-layer of Cuprotect®Spezial met the high US-standard MIL-STD-188-125, part 1+2. This high aim was exceeded several times under different basic conditions during the tests.
The high testing requirements of the US military standard MIL-STD-188-125, part 1 and 2, were accomplished by using two layers of Cuprotect®Spezial.
More than 30 measurements of the shielding effectivity of double-layered Cuprotect®Spezial were taken with differing construction surfaces and details, achieving at least 80 dB shielding attenuation in the frequency range of 1 MHz to 3 GHz.
In addition, expert Prof. Dipl.-Ing. P. Pauli from Universität der Bundeswehr, Munich, verified the excellent shielding properties of Cuprotect®, Cuprotect®Spezial and Cuprotect®A1.
According to normal practice conditions an area of 4 single sheets of Cuprotect®, Cuprotect®Spezial and Cuprotect®A1 respectively was pieced together. Subsequently, its shielding attenuation within different embedding materials (plaster, bitumen thick coating, hot bitumen, lime mortar, cement mortar) was measured:
Cuprotect® products for all areas of use (timber frame, plaster etc.):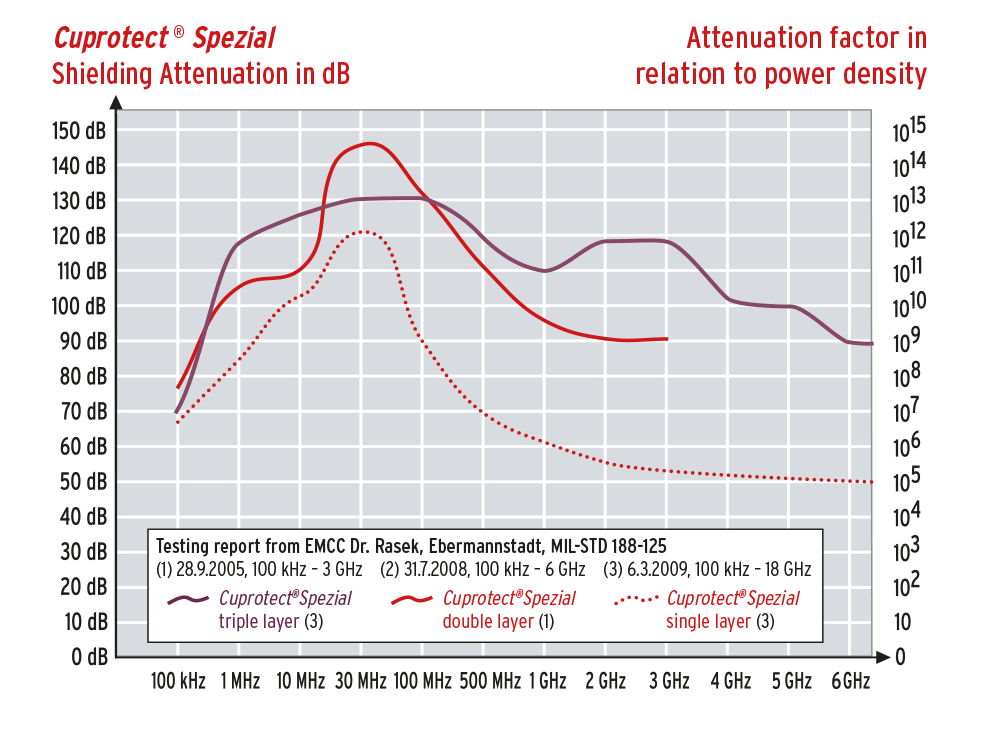 Cuprotect®A1 for roofs and timber frame construction:

Legende:
Frequency Range:

Long & Medium Frequencies
High Frequencies
Radio Services
UKW radio stations
VHF TV-stations, T-DAB (digital radio)
Paging services
UHF & digital TV-stations
GSM 900 mobile communication
Radar for air traffic control
GSM 1800 mobile communication
DECT indoor telephones
UMTS mobile communication
WLAN / Bluetooth
Radar, airport radar
WLL
Hyper-LAN
Weather radar
Radar
Radar


100kHz - 1,5 MHz
3- 26 MHz
40 - 80 MHz
86 - 108 MHz
174 - 223 MHz
465 MHz
470 - 840 MHz
935 - 960 MHz
1.240 - 1.400 MHz
1.820 - 1.875 MHz
1.880 - 1.900 MHz
2.110 - 2.170 MHz
2.400 - 2.484 MHz
2.700 - 3.400 MHz
3.500 Mhz
5.150 - 5.255 MHz
5.600 and 9.400 MHz
8.500 - 10.500 MHz
17.000 - 18.000 MHz

Frequency Range:

Cuprotect®

Shielding Attenuation Factor*

100 kHz to 3 GHz

up to 100 dB

up to 100.000

3 GHz to 10 GHz

up to 40 dB

up to 10.000

10 GHz to 18 GHz

up to27 dB

up to 500

Frequency Range:

Cuprotect®Spezial

Shielding Attenuation Factor*

100 kHz to 3 GHz

up to 120 dB

up to 1,000,000,000

3 GHz to 10 GHz

up to 48 dB

up to 158,500

10 GHz to 18 GHz

up to 40 dB

up to 10,000

Frequency Range:

Cuprotect®Spezial double layer

Shielding Attenuation Factor*

100 kHz to 3 GHz

up to 145 dB

up to 1,000,000,000,000

Frequency Range:

Cuprotect®A1

Shielding Attenuation Factor*

10 MHz to 3 GHz

up to 110 dB

up to 1,000,000,000

3 GHz to 6 GHz

up to 58 dB

up to 1,000,000

(* means by which factor the shielding effectivity improved comparing to the initial condition

Practice example:
A shielding effectivity of 30 dB reduces the electromagnetic flux density by a factor of 1,000. If the measured value lies around 10,000 µW/m², a shielding material with a shielding effectivity of 30 dB reduces the electromagnetic radiation on the back side of the shielding to a building-biologically acceptable value of 10 µW/m².

Conclusion:
Choosing Cuprotect® for your shielding measures guarantees a factor of 1,000 for the attenuation of electromagnetic waves under practice conditions, provided that other elements such as windows and doors are integrated into the shielding concept designed by a shielding expert.

At EMC-Test NRW GmbH (Dortmund, 23/11/2004) and EMCC Dr. Rasek (Ebermannstadt, 16/02/2005) – both accredited EMI testing labs – the shielding effectivity of Cuprotect®Spezial was tested under practice conditions including the comparison of the effects of different connection techniques for the individual Cuprotect® sheets.

A double-layer of Cuprotect®Spezial met the high US-standard MIL-STD-188-125. In addition, expert Prof. Dipl.-Ing. P. Pauli from Universität der Bundeswehr, Munich, verified the excellent shielding properties of Cuprotect®, Cuprotect®Spezial and Cuprotect®A1:

Review Cuprotect®:
"Our tests showed that Cuprotect® is outstandingly suitable for shielding electromagnetic waves – particularly within the interesting frequency ranges of mobile communication."

Review Cuprotect®Spezial:
"Our tests showed that Cuprotect®Spezial is outstandingly suitable for shielding electromagnetic waves of any polarisation within the whole UHF frequency range and up to 18 GHz."

Review Cuprotect®A1
"The measurements give evidence that Cuprotect®A1 has an excellent shielding effectivity for shielding electromagnetic waves of any polarisation within the whole examined frequency range."

(Prof. Dipl. Ing. Pauli, reports from 03/07/2002, 24/01/2003, 14/01/2005)

EUROPAEM EMF Guideline 2016 for the prevention, diagnosis and treatment of EMF-related health problems and illnesses

Precautionary guidance values for selected RF sources
In areas where people spend extended periods of time ( > 4 h per day), minimize exposure to radio-frequency radiation to levels as low as possible or below the precautionary guidance values specified below. Frequencies to be measured should be adapted to each individual case. The specific guidance values take the signal characteristics of risetime (ΔT) and periodic ELF "pulsing" into account (258). Note: Rectangular signals show short risetimes and consist of a broad spectrum of frequencies. The current density induced in the human body increases with increasing frequency in an approximately linear relationship (266).s.
>> Download of the full Guideline / 2016